Commercial Recycling
Kieffer Sanitation is dedicated to making it easy for businesses to recycle. Separate receptacles are available for commercial recycling – this includes dedicated dumpsters for old corrugated cardboard (OCC).

Kieffer Sanitation offers commercial recycling in 11 communities including Rapid City and Belle Fourche as outlined below.

---
SERVED BY RAPID CITY
605-342-5575
Black Hawk
Box Elder
Edgemont
Ellsworth
Hot Springs
Piedmont
Rapid City
Rapid Valley
SERVED BY BELLE FOURCHE
605-892-4635
Belle Fourche
Spearfish (inside city limits)
Whitewood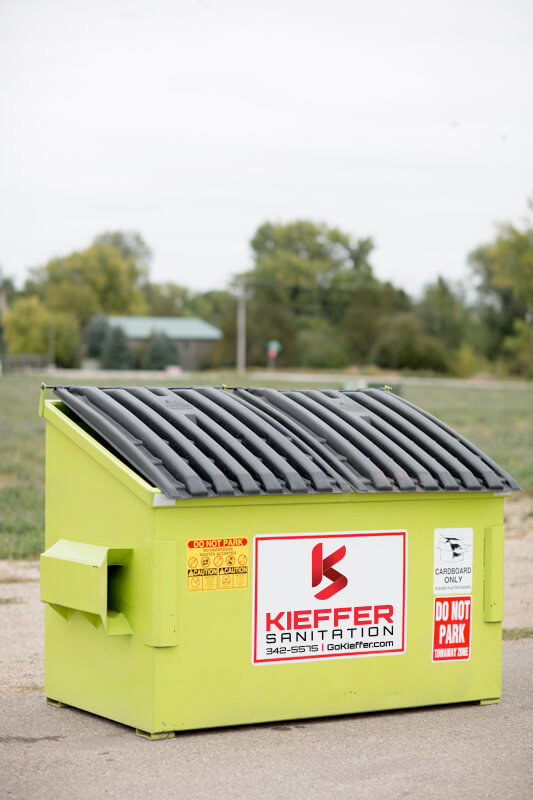 Commercial Co-mingled Recycling - Acceptable Items
• Plastics
Milk & detergent jugs, soda bottles, water bottles, empty oil containers, hair care product bottles, food containers, empty paint containers. Please triple-rinse pesticide or other containers that contained toxic substances.
• Aluminum
Beverage cans, health care items (hair spray cans, shave cream cans).
• Steel
Vegetable cans, soup cans, coffee cans, empty/almost empty paint cans, depleted aerosol cans.
• Glass
Beverage bottles, jars (please remove lids). No window panes or sheet glass.
• Corrugated Cardboard
Moving boxes, beverage/beer case boxes, food boxes, etc. Nothing shiny or waxy. No paperboard boxes.
Unacceptable Items
• Styrofoam
• Plastic Bags and Films
• Aluminum Foil
• Packing "Peanuts"
• Cereal Boxes
• Shiny-Surfaced Cardboard
• Window Glass
• Garbage