Kieffer Clean Up Can
Kieffer Sanitation strives to excel in customer service along with providing superior equipment in the sanitation industry in western South Dakota. We are driven to be the premier sanitation business in Rapid City SD and western South Dakota. Let us help you with your clean-up projects.
SERVED BY RAPID CITY - 605-342-5575
Black Hawk
Box Elder
Ellsworth
Rapid City (within city limits)

Rapid Valley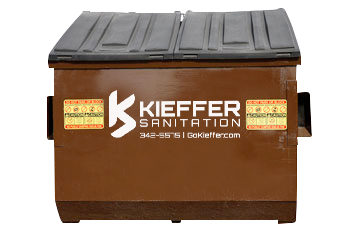 Projects for the Kieffer Clean Up Can

• Clean Ups: House, garage

• Home Remodeling
Your project is our priority with reliable drop off and pick up service for the Kieffer Clean Up Can. Kieffer Sanitation will drop off a Clean Up Can at your location and pick it up when you are done. Each Clean Up Can will hold the same amount of debris as 1-2 pick-up loads, plus we haul it away for you. Home remodels, spring cleaning, and more, we understand your need for a convenient way to dispose of your debris no matter what your project is.
Kieffer Sanitation will deliver and retrieve our Clean Up Cans anywhere in Rapid City. We will place your Clean Up Can where you would like it located or where you consider it to be most convenient. We take pride in providing reliable and trusted services throughout Rapid City.
Clean Up Can rentals are easy with Kieffer Sanitation. Call us today for guidance and quotes on a Clean Up Can that will enhance your home project.

Call 605-342-5575 or email us today to learn more about Kieffer Clean Up Cans.


Request Service