Residential Garbage
Kieffer's residential garbage service includes trash collection for residents in communities throughout the greater Black Hills area.
To see if Kieffer offers service in your community, visit the Kieffer Service Area Map and click on your town.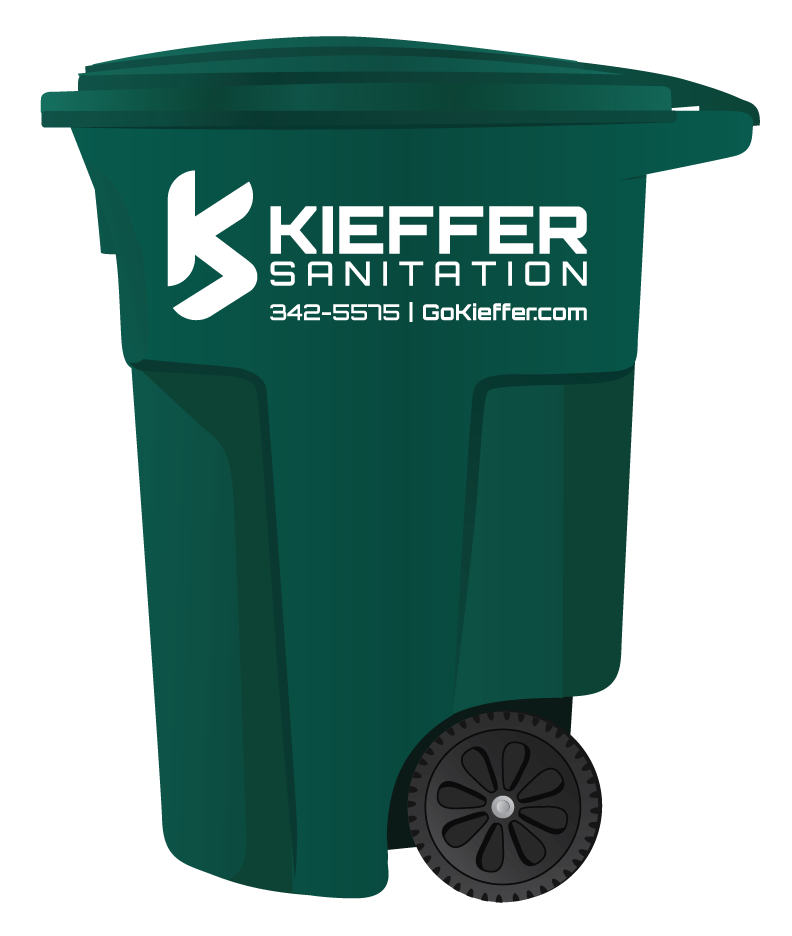 96 Gallon - Holds seven 13-gallon kitchen bags
Kieffer Sanitation offers:
Excellent service - safe, clean, reliable
Pickup frequency options - 1x a week or 2x a month
Ability to request special pickup for excess garbage or large items. Call ahead and speak with our friendly customer service representatives regarding cost and special instructions for items like: furniture, freezers, refrigerators, treadmills, etc.
And, for residents in Rapid City, Rapid Valley, Black Hawk, Box Elder and Ellsworth who have a large house, garage or yard projects, Kieffer can deliver and pickup a temporary Clean Up Can.
RESIDENTIAL SCHEDULE
Kieffer now offers calendars and two useful tools online and an app to download for residential customers.
My Schedule - enter your address and view your pickup schedule.
Waste Wizard - search for any item you are not 100% sure you can put in your residential curbside collection.
Items Not Accepted
Ammunition
Asbestos
Ashes
Compact Fluorescent Light Bulbs (CFL)
Compost
Concrete
Contaminated Soil
Dirt, rocks or gravel
Electronics
Hazardous waste
Liquid Paint
Medications (see below)
Scrap Metal
Sharps or Needles (see below)
Tires
Unbagged kitty litter or dog waste
Wood waste
Yard Waste
HOUSEHOLD HAZARDOUS WASTE
The EPA considers some leftover household products that can catch fire, react, or explode under certain circumstances, or that are corrosive or toxic as Household Hazardous Waste (HHW). Products such as paints, cleaners, oils, batteries, and pesticides can contain hazardous ingredients and require special care when you dispose of them.
To learn more visit the EPA's Household Hazardous Waste site.
Every two years, Rapid City hosts an annual Household Hazardous Waste collection event. The last one was held October 12, 2019. For more details contact Rapid City Solid Waste Division at 605-355-3496.

SHARPS Disposal
An improperly disposed needle, syringe or lancet (all considered Sharps) can pose serious health hazards to the public, garbage haulers, and city landfill and wastewater employees. Help prevent injuries by properly disposing of needles and syringes in a puncture resistant container.
MEDICATION Disposal

For everyone's safety, please remove unused medications from your home. There is a free drop off location at the Public Safety Building in Rapid City.
Dropbox Locations
Rapid City Police Dept
Accepting sharps and medications
Public Safety Building
300 Kansas City St
Rapid City, SD 57701
Lobby Hours
Monday-Friday 7:00am - 6:00pm

Rapid City Landfill
Accepting sharps
5555 SD Hwy 79
Rapid City, SD 57703
Hours
Monday-Friday 7:00am - 4:45 pm
Saturday 7:00am - 2:45 pm
For questions about hazardous waste disposal visit City of Rapid City's Public Works website or call 605-355-3496.